I've visited lots of gardens, but The Water Garden at Emquartier – slap bang in the middle of a luxury shopping mall and five storeys above the city streets – was a new experience for me.
EmQuartier is Bangkok's brand new shopping mall, next to Phrom Phong BTS station and just across Sukhumvit Road from the well-established (and recently renovated) Emporium mall. Alongside the modern glass and chrome architecture, there's been a real effort to create breathing green spaces on every level.
Outdoor walkways connect the different zones and from these vantage points, as well as superb views of the city, you can spot the foliage of the Water Garden high up in the Helix Quartier and an impressive waterfall, complete with enormous peacocks, overlooking the atrium.
Spiralling down over 100 metres from the roof, the Rainforest Chandelier – designed by Patrick Blanc of Vertical Gardens fame – creates a striking first impression of The Water Garden. Echoing the chandelier, the floor then spirals up and up, enabling visitors to circle the gardens and then continue upwards, to select from one of the 50 or so dining outlets between the sixth and ninth floors.
Below the living chandelier, a curved wall of stone – displaying a variety of tropical plants grown hydroponically and over which a cascade of water continually flows – follows a path down to the lotus pond.
A glass doorway leads to the outdoor courtyard with its interconnecting pools and swaying bamboos. Strategically placed viewing platforms give spectacular panoramic views of the city and the nearby green oasis of Queen Benjasiri Park.
Lobster pot-style gazebos provide quiet sitting areas for catching up with friends and admiring the gardens and views.
A wooden walkway over a pond winds between Bodhi and Banyan trees, a spirit house nestling beneath their branches.
Dusk was falling as we arrived, transforming the gardens into a magical world. Tiny starry lights hung suspended from the ceiling, flames flared from metal torch holders and hidden lights illuminated the trunks and foliage.
Flames flickered from a glass cube floating on the water.
It is a beautiful spot to watch night descend on the city.
You know the scenario – you're wandering around the garden centre, a horticultural show, a friend's garden, and there's this gorgeous little plant you desperately need to own. So you buy it (or dig up a clump if offered or take a few seeds). Your own garden is bursting at the seams. There is no room for a single extra plant, but how many gardeners are staunch minimalists who will stoically turn their backs on that enticing little plant?
So the borders are bulging with delicious combinations of plants and you dig up more lawn for an extra bed. You plant up huge flower pots and hanging baskets. You drape fences with climbers – perhaps even cover the shed roof and the wheelie bin. Where next?
You could always try creating a living wall!
Vertical gardening is the craze that's been sweeping the world. In our concrete and glass city centres, they are soothing to the eye, covering up ugly, decaying or just plain boring grey structures and creating new green spaces in our cities. Green walls lower the temperatures of buildings and help reduce the urban heat effect. They have been used indoors in countries with severe winters, like Canada, to counter Seasonal Affective Disorder (SAD). And, of course, they are a work of art in themselves.
Patrick Blanc
, the French botanist and pioneer of living walls, is a garden artist, creating his living wall installations around the globe – Paris, New York, Tokyo, Dubai and Bangkok. His latest installation – 'Rain Forest Chandelier' at the new EmQuartier luxury shopping mall in Bangkok – looks visually stunning. It spirals down for over 100 metres, above the 3,000 square metre indoor tropical water gardens, 5 storeys above the streets of the country's capital city.
Since the plants on living walls must be able to survive without soil, relying instead on a nutrient solution, the careful choice of plants is essential. The first green walls were made with tropical species, plants observed to grow vertically in the wild without the need for soil. However, gardeners now use a much wider choice of plants, experimenting to find ones that can cope with being grown hydroponically.They also need to have interesting foliage, which looks good when viewed from underneath, and require little in the way of regular maintenance.
Tropical plants such as Calathea, Codiaeum variegatum pictum, Spathiphyllum wallisii and the Philodendrons work well on indoor living walls – or outdoor walls in tropical regions! Tougher plants for outdoor walls include fuchsia, hebe, epimediums and ferns such as Cyrtomium fortunei and Asplenium.
With a feeling of excitement, adventure and just a little trepidation, we recently set off on an amazing family road trip in northern Thailand. Stunning mountain scenery, tranquil tea plantations, fruit juice freshly squeezed at an orange orchard, a night of solitude with just the frogs and cicadas for company in an isolated hilltribe village awaited us.
After a particularly adventurous experience, lurching and jolting over a lonely mountain road not yet fully surfaced (but with the most fantastic view in the whole of Thailand), we headed back to the charming, moated city of Chiang Mai and civilisation.
On the way, we stopped at the Queen Sirikit Botanic Garden, near the little town of Mae Rim and about 30 miles northwest of Chiang Mai. Like many Royal Projects in Thailand, this one was beautifully designed – with more people working on the site than actual visitors! We passed a handful of other tourists, but most of the time the gardens were ours to explore. We stopped at the Lanna-style Visitor Centre near the entrance to ask for a Visitor Guide and, after some scuffling, one was finally produced – but it was the last one, I was told with a smile, and it seemed to have taken a bit of searching for!
A driveway meanders around the site, so that you can take your car in and drive through the grounds, pulling up at the side to hop out and inspect the plants, and leaping back into the air conditioning afterwards.
A number of trails are signposted along the way – the Waterfall Trail, Fern Garden, Banana Avenue – and, at the top of the site, is the Glasshouse Complex, with 8 glasshouses each housing its own collection of plants including water plants, bromeliads, variegated plants and medicinal plants.
The Waterfall Trail near the entrance is a lovely place to start. The path passes beside the low waterfalls where the Mae Sa stream tumbles over rocks and leads on pushing through the shaded undergrowth to the Orchid Collection.
Though our visit at the beginning of the rainy season meant that many of the outdoor ornamentals had finished flowering, it was a good time to admire the fairy lilies, which carpeted the ground as we climbed up the main drive towards the Glasshouse Complex.
And it was in the comparative coolness of the glasshouses themselves that we lingered longest.
The spikes and spines of the desert-dwellers – in the Arid Plant Collection.
Bright, pink-flushed Bromeliads, displayed amongst stone carvings and Thai pots.
Exquisitely layered blooms of the lotus flowers and water lilies in the Aquatic Plants Glasshouse.
It's the Magnolia time of year again – every other garden boasts eye-catching, head-turning starry flowers.
Here's one of my favourites: Magnolia stellata or Star Magnolia. Strokeable, furry buds and a starburst of pure white petals in March and April. Perfect in a woodland garden … or any garden really!
When we first began planting up our garden, my parents dug up from their own garden and donated fast ground-covering plants, like pretty blue campanula, to help cover some of the wilder areas at the top of the garden. These did the trick nicely, romping off to cover up the bare soil and could be cut back whenever we found a choicer specimen to replace it with.
We soon found though that the cheery, bell-shaped flowers seemed to get on remarkably well with whatever we chose to partner it with. It is just the perfect purple-blue to set against yellow, orange and pink, as well as making a great partner for silver and dusky or darker shades of purple. And, apart from needing to be pulled up when it threatens to scramble off into the ether, it's an incredibly easy-going little perennial too.
We planted a mixed green and purple beech hedge to section off the wild part at the top of the garden and set a metal archway into the hedge to lead into our 'secret garden'. I planted this gorgeous yellow clematis to clamber up and over the arch and its perfect partnership with the spreading blue campanula at the foot of the arch was a wonderful, serendipitous combination.
Here, the purple-blue of the bellflower adds depth to the sophisticated combination of silvery Artemisia and ghostly-white Eryngium.
Its unassuming nature makes the campanula a good choice for a 'wild' area. We planted up the base of the hedge with wild and wild-ish flowers, including this luscious lipstick-pink cultivated strawberry plant.
This sunny combination of Eschscholzia mexicana Sun Shades and Geranium Bill Wallis demonstrates how well the purple-blue of the geranium brings out the best in these cheerful orange California poppies. Another future partner for my campanula perhaps?
Fact file : Campanula poscharskyana
from the Weatherstaff PlantingPlanner
The trailing bellflower is a cheerful, long-flowering perennial. Light purple-blue, star-shaped flowers, carried about 10cm above the ground, appear from late spring and keep going right through to early autumn. Its small leaves are semi-evergreen, forming a low mound with spreading stems.
A low-maintenance plant, it can be sheared back after flowering to keep it tidy.
The cultivar 'Stella' is a good plant to look out for, as it has been awarded the Royal Horticultural Society's Award of Garden Merit.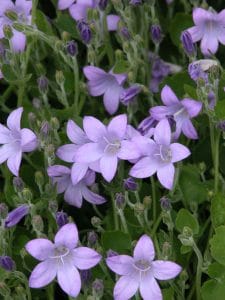 Garden locations
There aren't many places which are not suitable for this versatile little perennial. It is a useful plant for providing groundcover, makes great garden edging and can be planted up in pots. It happily scrambles over banks and slopes and makes itself at home in both town and country gardens. Once established, it can spread quite vigorously, so it is particularly good in semi-wild areas. It can be grown in rock gardens too, but take care that it doesn't romp away over more delicate alpines.
Cultivation
Campanula poscharskyana likes moist, well-drained soil in sun or partial shade.
Last night, as dusk was falling, I took the dog for a walk across the fields. The intense heat of the day had mellowed to balmy warmth, a gentle breeze drifting across from the estuary.
The scorching Indian summer is confusing the seasons. It feels like a glorious day in the heat of summer, yet the fields are harvested, the leaves are turning and the hedges dripping with dusky sloes and jewel-like blackberries. My two columnar pear trees, Beurré Hardy and one Doyenné du Comice, are heavy with fruit. The step-over is keeping the family supplied with crisp, yellow-red Falstaff apples.
It's tempting to head off to the seaside to take advantage of this late offering of sunshine. Or pull out the sunlounger and relax with a good book. Actually, I think I might go blackberry picking – I feel an apple and blackberry crumble coming on….

Need a Low Maintenance Planting Plan? Click here
Top marks to those easy-going plants which perform spectacularly and never ask for much in return. Here are some more of my favourite low maintenance plants.
Tiarella 'Iron Butterfly'
A stunning, clump-forming perennial, with attractive foliage and sprays of delicate flowers. Tiny, starry, white flowers, opening from pink buds, are produced in late spring, sometimes followed by a second flush in summer. The gorgeous, deeply-lobed leaves are mid-green with maroon markings and provide useful ground cover in woodland conditions.

Rudbeckia fulgida var. sullivantii 'Goldsturm'
A mass of golden, daisy-like flowerheads are carried on upright stems from late summer to mid-autumn. A superb, late-flowering perennial, the cheerful yellow rays surround prominent black-brown, cone-shaped discs.
Miscanthus sinensis 'Morning Light'
Just remember to cut back last year's old stems to ground level in early spring and this elegant ornamental grass takes care of itself for the rest of the year.
Strongly upright in habit, the linear, dark green foliage, narrowly margined white, arches at the top to create a cascading effect. In autumn, the leaves take on russet tones before fading to buff.
Eschscholzia californica
Scatter a packet of California poppy seeds in mid-spring and year after year, these brightly coloured annuals, in shades of summer sunshine, will appear, above delicate, ferny, blue-green foliage.
Tips for Low Maintenance Gardens
Lawns
You could replace grassed areas with hard landscaping, but if that's a step too far, then consider the following:
Limit the amount of lawn that will need regular mowing.
Keep the lawn free of objects or trees which will be time-consuming to move or mow around.
Use a lawnmower that mulches – i.e. one that cuts up clippings very finely and blows them back under the standing grass so that you do not have to empty grass boxes.
Lay a mowing strip – a hard edging of paving or brick – between borders and lawns.
Boundaries
How much time can you afford to spend maintaining your boundaries?
Walls require little routine maintenance, fences need treating with preservative on a fairly regular basis, hedges need trimming at least once a year.
Informal hedges are much less time-consuming than formal ones but will tend to spread and take up more space.
Mulching
Mulching will keep the time spent on weeding and watering chores down.
Sheet mulches, such as black polythene, can be laid over well-prepared soil. Plants are planted through the sheet, which is then covered with a more attractive mulch such as gravel.
The sheet mulch will help prevent weeds from establishing around your planting. Unless the sheet is perforated or a permeable fabric is used, plants will need to be watered carefully, directing water at the base of each plant.
If you want to encourage self-sown seedlings, don't use a sheet mulch. A layer of gravel or bark chippings will make it easier to pull up weeds and help conserve moisture, reducing the need for watering.
Irrigation
Consider setting up an irrigation system through your Planting Area.
You can purchase an irrigation system from garden centres or online. Once set up, it will substantially reduce the amount of time you will need to spend on watering chores.
Automatic watering kits usually consist of a network of tubing, which is laid amongst the plants in your border and hidden under a layer of soil or mulch, connected to an outside tap. You can buy starter kits which provide all the components for a particular size border or buy the items individually and make up your own system.
Combining an irrigation system with a timer provides the ultimate low maintenance watering option and it will also look after your garden while you are away.
Raised Beds
Introduce some raised planting areas into your garden.
Raised beds are easier to maintain especially for anyone who wants to restrict the amount of time they spend kneeling or bending over.
Need a Family Friendly Planting Plan? Click here
Our garden has grown with us. Our youngest child was born within weeks of moving in and spent the first summer being pushed around an empty plot in her buggy. Heavy snowfall that winter meant that her brothers, bundled up in hats and scarves and huddled together on their toboggan, could be pulled up to the highest point of the garden before sailing back down again. Our newly-built house stood in its newly-laid-to-lawn garden, the blank walls bare and the fences freshly painted.
With time, both house and garden settled in, became more lived-in and weathered, more distinctly ours. We dug out our first flower beds and filled skips with all the builders' rubble which lurked beneath the layer of pristine turf. We planted climbers and watched them clamber upwards, softening the brick façade. A pergola was erected along the path of the toboggan run, which didn't seem quite so steep and exciting after the age of four.
This was our first real garden and we were virgin gardeners. We gardened by torchlight when the children were sleeping. We devoured gardening books in any spare time and discovered more and more things that we didn't know we didn't know. We bemoaned the lack of a computer program which could juggle all our plant choices and come up with stylish planting plans, just for us – but we hadn't developed it then, so we did everything the hard way, searching out plants to suit our soil type, our windswept location, our colour preferences. And also to suit our children!
The only poisonous plants I could list were foxglove, deadly nightshade and laburnum. Oh and the evil-sounding monkshood. So, I wasn't planning to include any of these in my first plant shopping list. But I discovered there were a whole host of plants waiting to attack my unsuspecting family! We had carefully child-proofed the house – cupboard locks, door stoppers, electric socket covers. Now we needed to do yet more research into garden safety.
The majority of garden plants are safe to handle. Many commonly grown plants may cause a mild stomach upset if ingested and/or skin irritation. Some are extremely unpleasant. All parts of the ubiquitous daffodil, for example, can cause severe discomfort if eaten.
While our children were small, we made a conscious effort to exclude poisonous and prickly plants from our garden, but also to adopt the strategy of teaching them from an early age not to touch or eat any plant without checking with an adult first. Now that they're all head-height or above, we can see that they weren't small children for very long at all. I'll probably get to claim my lawn back from under the trampoline soon but I'm beginning to feel that day will come far too soon for my liking.
Need a Family-friendly Planting Plan?
The Weatherstaff PlantingPlanner
makes it easy for you to create a family-friendly garden. The interactive gardening software designs all-season
planting plans
for your garden, tailored to your garden's soil and light conditions.
Choose your favourite planting style (for example: cottage, contemporary, Mediterranean) and pick your colour scheme. Select the Family Garden option as an Additional Planting Requirement. The PlantingPlanner will draw up a planting plan, which is suitable for all family members.
Tips for Family Friendly Gardens
As well as avoiding plants which are prickly or poisonous, the following notes may be useful if you want to create a safe environment for children to play, which also offers a pleasant and relaxing atmosphere for adults to enjoy.
Play areas for young children should be sited close to the house, though older children may appreciate adventure areas which are more secluded.
Think about incorporating hiding places, stepping stone pathways and routes around the garden for great Easter Egg Hunts and Hallowe'en fun.
If you intend to grow your own vegetables or have regular barbecues, plan these areas in from the start.
Think about water safety if you have or plan to incorporate ponds or water features into your design.
Don't forget a patio for relaxing or eating outdoors.
The ancient bluebell woods in April and May are a quintessential feature of the British landscape. Dappled sunshine. The fresh spring green of the returning leaf canopy. AÂ  purple haze, colour-washing the woodland floor.

We were delighted to discover wild bluebells springing up in our hedgerow when we moved to our new home. The elegant, lavender-blue flowers are narrowly tubular, their petal tips recurving like the hat of a fairy elf. Sweetly scented, they are carried on one side of the flowering stem only, weighting the slender stem down so that it arches at the top.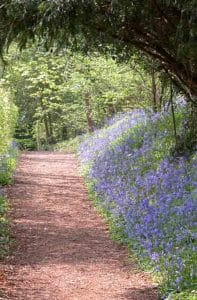 It is the slight and stately stem
The blossom's silvery blue
The buds hid like a sapphire gem
In sheaths of emerald hue
'Tis these that breathe upon my heart
A calm and softening spell
That if it makes the tear-drop start
Has power to soothe as well.
The Bluebell – Emily Brontë

In spring, bluebells can be found in many of the woods of North East Europe and they are a common sight in much of Britain and Ireland. They are glorious at the moment in the Forest of Dean where I live and the scent on the breeze is all-pervading. However, the species is globally threatened and has greatly declined over the past half century.

And azuring-over greybell makes
Wood banks and brakes wash wet like lakes
May Magnificat – Gerard Manley Hopkins
The common bluebell – Hyacinthoides non-scripta – is protected in the UK under the Wildlife and Countryside Act 1981 but it is now under threat from hybridisation with the Spanish bluebell – Hyacinthoides hispanica, which is commonly planted in gardens.
When the Spanish bluebell escapes into the wild, it quickly hybridises with the native bluebell. Both the Spanish bluebell and its hybrids will out-compete the more delicate common bluebell.
from the Weatherstaff PlantingPlanner
An enchanting, bulbous perennial, flowering in spring.
The plant forms a clump of glossy, linear, dark green leaves.
Upright stems, arching at the tip, carry one-sided racemes of scented, purple-blue, narrow bell-like flowers, with cream anthers.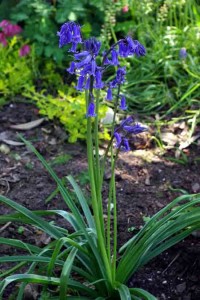 Planting
Plant bulbs 8cm (3in) deep in autumn. Add grit to heavy soil to improve drainage.
Cultivation
Ideally, plant in drifts in light shade in moist, well-drained soil.
Allow the plant to set seed for an even more impressive show the following year. Overcrowded clumps can be lifted and divided in summer.
Wildlife Interest
The flowers are attractive to bees and butterflies.
Notes
Hyacinthoides non-scripta can be distinguished from the Spanish bluebell – Hyacinthoides hispanica – and its hybrids by its narrower bells and leaves and arching stems. Hyacinthoides hispanica is more upright, with wider flowers. The common bluebell is also pleasantly scented, has flowers on one side of the stem only and has cream pollen. If the pollen is another colour, such as pale blue or green, then the plant is likely to be a hybrid. Make sure you look at recently opened flowers before the pollen has been shed.
The glorious sunshine of the past few days has beckoned me out into the garden. It's always a little sad to see the cheery daffodils going over. Like the earlier snowdrops, I watch for them with eager anticipation but they are over too swiftly. This time, though, even as I pinch off the dying flowers, I'm distracted by signs of growth all around me.
Everything happens so fast at this time of year – blink and you miss it. A few days ago, the view from one kitchen window was dominated by a magnificent Magnolia stellata, swathed in white flowers and looking as though someone had tied white ribbons to every branch. In the opposite direction, our Amelanchier canadensis was equally heavy with blossom. For a little while, every trip to the kitchen had me marvelling from each window in turn. Now, the ground beneath each small tree is scattered with petals. Already the display is waning.
All around the garden, though, there's a parade of Easter belles, ready for their turn in the limelight. So what's next?
The flame-streaked Prinses Irene tulips are opening by the garage, their fiery colours contrasting vividly with the cobalt-blue of their ceramic pot. Waiting in the wings – in the border next to the fence, my very own Sissinghurst White Border – are the green-white buds of White Triumphator tulips, poised to open into elegant, pure white flowerheads with flaring petal-tips.
In the same border, white dicentra is in flower, pretty heart-shaped lockets strung along stems which arch over a mound of ferny foliage. So, too, are the drumstick primulas, spherical clusters of white with tiny yellow eyes.
Guarding the edge of my fruit bed is the step-over 'Falstaff' apple, where the deepest pink buds are opening daily to pink-flushed white apple blossom. In the summer, the raspberry canes will be shoulder-high here but for now, it's the apple tree, underplanted with tufty purple chives, which catches the eye.
The charming downy-soft, pasque flower signals that Easter is just around the corner. There's a good-sized clump here now and I have to resist the urge to stroke the softly furry, nodding purple heads as I pass. When Easter is over, I'll have their silky, silver seedheads to look forward to.
from the Weatherstaff PlantingPlanner
A delightful, spring-flowering perennial.
Pulsatilla vulgaris has finely dissected, light green, leaves, silky-hairy when young.
Softly hairy, flowers are carried in spring, upright at first then nodding as the flower ages. The pale to deep purple, bell-shaped flowers have a boss of yellow stamens surrounding a central, purple stigma.
They are succeeded by silky, fluffy seedheads.
Cultivation
Pulsatilla vulgaris likes well-drained soil in full sun. It does not like being disturbed, so once planted, leave to settle in.
Where conditions are right, the plant may self-seed and provide a colony of these beautiful flowers.
Wildlife Interest
Pulsatilla is a useful source of early nectar for bees.