Need a Planting Plan for Autumn Colour? Click here
The trees are looking spectacular at the moment and it's hard to resist taking yet another photograph of the glowing colours at canopy level. But down on the ground, there are some hardy perennials which are still flowering their socks off!
Here's my choice for the best 5 perennials for autumn colour.
Helenium
These are stunning perennials with daisy-like flowers on an upright, clump-forming plant. They flower profusely from mid-summer into the autumn.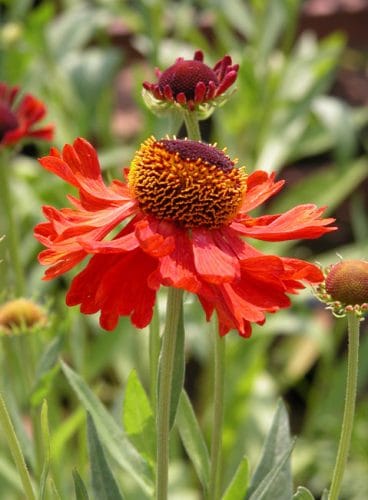 Helenium 'Moerheim Beauty' has glorious autumnal colours – fiery orange-red rays surrounding a velvety brown central disc. The rays reflex strongly as the flowers age. It has been awarded the Royal Horticultural Society's Award of Garden Merit (AGM).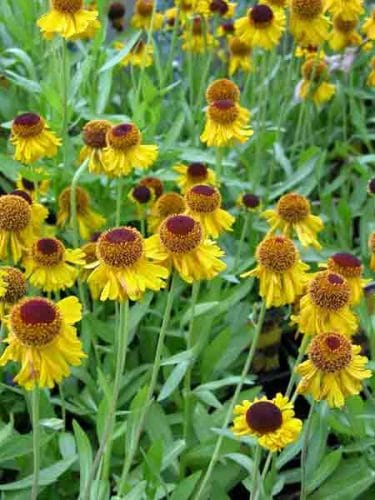 'Pipsqueak' has yellow rays surrounding a velvety yellow and brown central disc. The rays are relatively short and reflex very strongly, giving extra prominence to the central cone.
Another award-winning Helenium is 'Waldtraut'. The flowers have a velvety brown central disc, surrounded by coppery-orange rays, streaked yellow.
Helenium appreciates moist, well-drained soil in full sun. Cutting back the stems towards the end of May by about one-third should promote better flowering on more compact plants.
Rudbeckia fulgida var. sullivantii 'Goldsturm'
A superb, late-flowering perennial, spreading slowly by means of rhizomes.
A mass of golden, daisy-like flowerheads are carried on upright stems from late summer to mid-autumn. The flowers have prominent black-brown, cone-shaped discs. These become an interesting feature in their own right when the glorious, yellow ray-florets have fallen.
Rudbeckia likes moist, well-drained soil in sun or part-shade. Divide every 4-5 years to maintain vigour. Like Helenium, these too can be cut back at the end of May to encourage flowering.
Anemone x hybrida
Japanese anemones are vigorous, upright, perennials, bearing numerous flowers in late-summer to mid-autumn.
Anemone x hybrida 'Königin Charlotte' has soft pink flowers, while 'Honorine Jobert' has pure white, single flowers, with rich yellow stamens.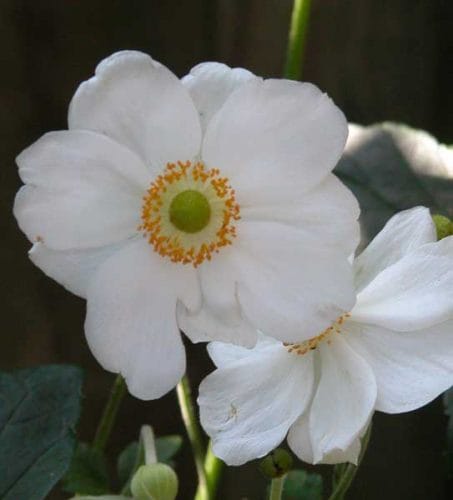 Happy in moist soil in sun or part shade, japanese anemones will spread to cover bare soil. Pull up rooted suckers to curtail its spread.
Michaelmas daisies
29th September is Michaelmas Day, the feast of Saint Michael the Archangel. The Michaelmas daisies flower around this time, with sprays of daisy-like flowerheads from late-summer to mid-autumn.
Many suffer from powdery mildew, so look out for Aster novae-angliae varieties, which have relatively good mildew resistance.
My favourites are the starry, pale lilac flowers of Aster pyrenaeus 'Lutetia', and, as an added bonus, they are completely resistant to powdery mildew. A great late flowering garden plant.
Sedum telephium
The sedums also bring interest to autumn flower beds, with the colours often getting better and better as the season passes.
From late summer to mid-autumn, Sedum telephium 'Munstead Red' has clusters of starry, deep pink flowers, with purple-red centres, darkening with age. The upright plant has green leaves, flushed purple, on bright red stems. Seedheads persist over winter, prolonging the season of interest.
'Purple Emperor' has pale pink flowers, with deeper pink centres, while the dark red-purple leaves on ruby-red stems bring a royal richness to garden borders.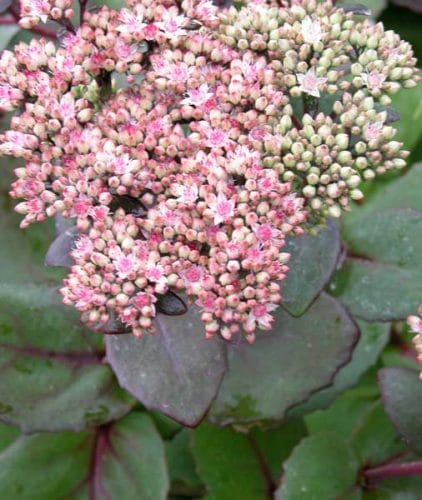 'Matrona' has pale pink flowers, with rose-pink centres. Green leaves, flushed purple, are carried on bright red stems.
Sedum telephium subsp. maximum 'Atropurpureum' has pink-white flowers, contrasting with dark purple leaves on purple stems. It has been awarded the Royal Horticultural Society's Award of Garden Merit.
Sedums like well-drained, neutral to slightly alkaline soil in full sun. They perform well in poor or moderately fertile soil, as richer soil conditions encourage foliage growth rather than flowering.
Need a Planting Plan for Autumn Colour?
When planting up a garden border, it's easy to end up with a one-season wonder. The flower beds are a delight in spring or early summer, but tail off at the end of the main flowering season. It can be hard to juggle all the factors which contribute to make a cohesive, all year round planting plan – finding plants which provide structure and interest in all seasons, complement each other, as well as thrive in the particular conditions you have in your own patch of earth.
The Weatherstaff PlantingPlanner does all this for you, making it easy for you to create garden borders with all year round interest. Enter details of your garden's soil and light conditions, choose your favourite planting style (for example: cottage or contemporary) and pick your colour scheme. The intelligent garden design software will create a planting plan which is tailor-made for you.
You can regenerate a plan or tweak it to add personal favourites. Let it bring out the designer in you, as you experiment with different colour combinations or scroll through the list of suggested plants to further personalise your design.
Pin for later
For more gardening ideas, click here to follow the Weatherstaff PlantingPlanner on Pinterest.