If you're just a new green shoot in the world of gardening, you'll find there's a whole new language to learn!
Seasoned gardeners will casually mention their tender perennials, talk of lifting their corms and dividing their tubers, or bemoan the chlorosis of their blueberries. If you're nodding sagely, thinking yes, that reminds me – must go and do a bit of rhizome splitting and add sequestered iron to the shopping list, then this blog post is clearly not for you.
On the other hand, if you're not sure whether they are discussing their ailments or brass bands, then you may find this post helpful!
When I potted up my first large container, I chose some flowers from the garden centre which looked good together. Some reappeared the following year, some didn't – I had no idea why. When we had a whole garden to play with, I thought it was time to find out a bit more.
I decided it would be useful to have a fair idea which plants would survive the winter and which wouldn't. And which ones, no matter how snuggly they were in their fluffy horticultural fleeces, were never going to see another spring, because sadly, their genetic make-up meant they were destined to keel over after flowering, leaving behind only their progeny to carry on the family name.
Annuals
These are the annuals – plants which germinate, flower and set seed all in one year. They die after flowering, but many will helpfully self-seed leaving a new generation of flowers to appear the following spring.
Many of those plants I bought for my first garden pot were annuals. I didn't kill them. It was their destiny. I didn't have to worry that my lack of care was responsible for their untimely deaths. In fact, for some of them, I hadn't realised that they had died because their offspring appeared the following spring, looking just like their mums.
Not all annuals come true from seed though, which means they will reseed, but won't be exactly the same as the parent plant. You can decide if you like the variety or whether you want to pull up the ones which clash with your colour scheme.
Annuals are perfect for a high-impact quick burst of colour in flower beds. Packets of seeds are inexpensive, so it's a good way to fill up a garden border cheaply or to have colour and interest for a year or two while you make decisions about more permanent planting.
Some gardeners like ringing the changes, trying out new colour schemes and flower combinations each year by experimenting with different annuals.
There are two types of annuals – the tough hardy ones and the more tender, half-hardy plants.
Hardy Annuals
Hardy annuals can cope with the cold. They can be sown in the autumn or early spring, because they can shake off the winter frosts. They are all ready to take off when the growing season arrives and can cope with a bit of late spring chill. And when they set seed, the seeds can survive the winter too, so will reappear the following year.
Hardy annuals include the classic sunflower (Helianthus annuus), love-in-a-mist (Nigella damascena) and cornflower (Centaurea cyanus).
Half-hardy Annuals
Half-hardy ones can't take the cold. You will have to wait until there is no more danger of frost in your region before taking the risk of sowing them directly in the garden. A late sowing means that they will take longer before they are ready to start flowering. You can give them a head start by sowing them indoors in early spring, on a window sill, in a coldframe or green house, but you will need to wait until the frosts are past before planting them out in the garden.
Don't just rush them out there, though. These pampered little things need time to get used to the big world outside, so you have to get them acclimatised by spending 10 days or so putting them outside during the day and bringing them back into shelter at night. This is called 'hardening off'.
Half-hardy annuals are definitely more time-consuming than the hardy ones, but if you have a nurturing nature and some time to cosset your little ones, it can be a therapeutic and rewarding experience.
Half-hardy annuals are also a bit more alluring and even flamboyant than the hardy ones, betraying their exotic origins.
The annual climber, Morning glory (Ipomoea) and Cosmos Sonata series are half-hardy annuals.
Biennials
A plant with a life cycle of 2 years is called a biennial. These tend not to be widely grown, which is understandable – why bother waiting 2 years for something to flower if it's going to die straight afterwards?
Traditional foxgloves are biennials – but they helpfully self-seed, so once established, they will continue to reappear every year. You can also buy perennial varieties of foxgloves.
Despite its name, honesty (Lunaria annua), with its purple or white spring flowers, followed by flat silvery seedpods, is also technically a biennial.
Perennials
These are the mainstay of most garden borders. They are plants with a life cycle of more than 2 years. Perennials are also called herbaceous perennials, which means that the plant is not woody (like a shrub or a tree).
Many perennials die right back to the root, but grow back again the following spring. Others, like bergenia and heuchera, are evergreen and keep their leaves in winter. They don't die back to the root, but neither do they have a woody structure, so they are still classed as perennials.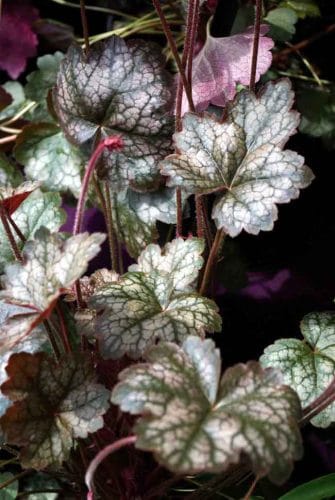 Heucheras are superb, clump-forming perennials, as they have delicate sprays of flowers in late spring and summer, as well as attractive, evergreen foliage. Heuchera Pewter Moon has silver leaves, with dark silver-green veining, which are red-purple on the undersides.
Ornamental grasses are perennials too and are beautiful as well as useful. Some, like Carex elata, are evergreen. These provide good winter colour in flower borders and need just a quick tidy-up in spring.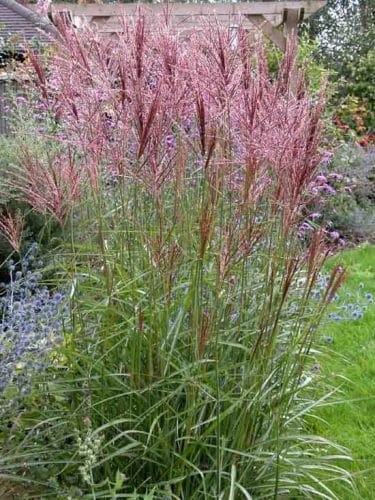 The deciduous grasses are good for winter interest too, as they don't need to be cut back until the spring, leaving the seedheads on for the birds to enjoy during the colder months. Miscanthus sinensis 'Nippon' is very elegant, with upright linear leaves, which turn to russet in autumn before fading to buff in winter. In late summer, feathery, reddish flowerheads appear, becoming silvery-beige as they fade to plumy seedheads. These persist through the winter, creating an attractive winter feature.
Bulbs
Planting bulbs is one of the easiest ways to start gardening. Find yourself a suitable container, plant the bulbs and wait for them to grow. They may need a bit of care – watering, checking they're not being munched by slugs, feeding them when necessary – but on the whole they're a perfect choice for beginner gardeners. Some bulbs are good for naturalising in the lawn too although you may have to wait for the foliage to die back before mowing. Snowdrops and crocuses look amazing, planted in drifts. Read advice on how to do it here.
When we think of bulbs, we tend to think first of spring bulbs, like crocuses, tulips and daffodils, but you can add a splash of colour to flower beds and pots throughout the year by choosing bulbs which flower in different seasons.
Elegant bearded irises grow in spring, summer-flowering bulbs include lilies and dahlias, while hardy cyclamen and Nerine bowdenii flower in the autumn.
You can prolong a container's season of interest by making a bulb lasagne, layering up the bulbs with the largest and latest bulbs to flower going in the bottom of the pot and moving upwards to the smallest and earliest flowering ones at the top. Sarah Raven explains how to do it here.
Bulbs are defined as a plant's storage organ, sending shoots upwards and roots downwards in order for a new plant to grow. Strictly speaking, not all of the flowers mentioned above come from true bulbs, which are modified shoots. Bearded irises grow from rhizomes, dahlias from tubers and crocuses from corms – I've included definitions of these in the glossary below – but they all perform in a similar way to bulbs.
Shrubs
Shrubs are very useful for creating structure in the garden. Without a backbone of shrubs (and/or trees), garden borders can look desolate in winter. In other seasons too, shrubs provide the backdrop for the perennials and annuals to perform against.
A shrub is a woody plant with several stems, usually branching from near ground level. Because it doesn't die back to ground level each winter, like herbaceous perennials, it will provide some winter interest. Evergreen shrubs, which keep their leaves in the winter, or winter-flowering shrubs are particularly useful in the garden during the grey months of the year.
Shrubs come in all shapes and sizes. Larger ones can offer privacy or height at the back of a flower bed. They can also be planted to form hedging along the garden boundary. Our garden borders a country lane and has a mixed hedgerow of holly, hazel and beech.
A perfect shrub for a middle sized border is Mexican Orange Blossom (Choisya ternata), an attractive, bushy, evergreen shrub, with white, starry, fragrant flowers. It doesn't need regular pruning so is a fantastic low maintenance shrub.
Small shrubs, especially evergreen ones, can be planted close together to make a low hedge. Lavender, for example, makes a great low hedge or border edging.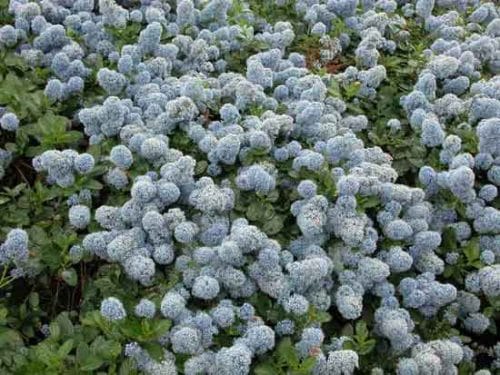 Ceanothus thyrsiflorus var. repens, which has been awarded the RHS Award of Garden Merit, is a vigorous, low, spreading evergreen shrub, which makes it perfect for forming ground cover.
Some shrubs, such as Chaenomeles (Flowering Quince) are useful for growing as wall shrubs but will need regular pruning and tying in to a support system.
Trees
A tree is a woody plant, with usually a single trunk. There are trees to suit every garden and some small trees – or trees with a narrow growing habit – are particularly suitable for small gardens.
Silver Birch 'Fastigiata' (Betula pendula 'Fastigiata') is a narrowly columnar, deciduous tree, with upright branches and white peeling bark.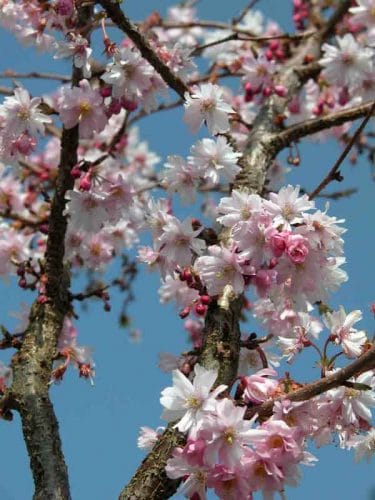 Ornamental cherries are great garden trees too. Prunus x subhirtella 'Autumnalis Rosea' is a small, deciduous tree, with an elegant spreading habit. Delicate, semi-double, pink flowers appear in mild spells between autumn and spring.
Even if you haven't got space for an orchard, don't let that put you off growing your own fruit! You can buy fruit trees, which have been grafted onto dwarf rootstocks, which will stunt their growth. They can also be pruned and trained in different ways in order to keep their size manageable.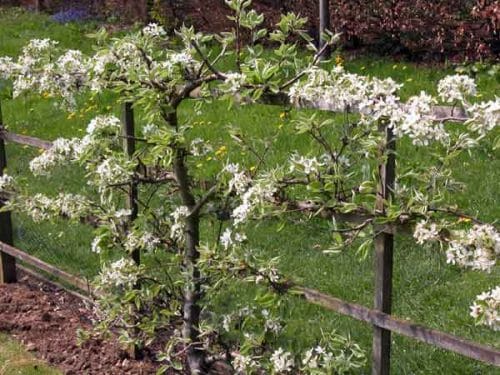 Fruit trees can be trained flat against a wall or fence, tying in the branches to a frame or trellis. Any branches jutting away from the wall or fence are pruned back. This is called an espalier and looks very attractive as well as being a practical space-saving solution.
You can also train fruit trees as cordons or in the shape of a fan. These are all just different ways of producing a decent crop of fruit in a small space. They are quite fun to try though you will need to be prepared to put some effort into their maintenance.
I have some minarettes in my garden, which are fruit trees with a single stem. There's quite a lot of pruning to do to keep the sideshoots short, but they take up little space in the garden. I also have a step-over apple tree, which bears a great crop of delicious apples, and is pruned to grow horizontally on wires between two posts. It makes a fantastic edging to a productive border.
Beginner Gardeners can have stunning borders too!
The Weatherstaff PlantingPlanner is a garden design program, ideally suited to new gardeners. You won't need to acquire a vast knowledge of horticulture before beginning to create beautiful flower beds in your own garden.
Simply input information about your garden's climate and soil conditions (don't worry, there are help panels to hold your hand through the entire process), choose your favourite colour scheme and sit back while the PlantingPlanner selects the plants which will thrive in your garden and shows you where to plant them. Each planting plan is specially created for you – and you can make as many as you want, changing your colour scheme and choice of style to try out different ideas.
The plans comes with colour photographs, descriptions and full maintenance advice, so you can keep your flower beds looking amazing year after year.
Watch the Home version overview video now to find out how to use the PlantingPlanner to easily create exciting garden borders with all year round interest.
Glossary
Annual – a plant which completes its life cycle in one year
Biennial – a plant which completes its life cycle in two years, flowering the year after it was sown
Bulb – a plant's storage organ, sending shoots upwards and roots downwards in order for a new plant to grow. A true bulb is a modified shoot, but corms, tubers and rhizomes perform similar functions
Climber – Climbing plant useful for covering walls or fences or for growing into trees or large shrubs. They can also be used for ground cover. Self-clinging climbers attach themselves to surfaces using aerial roots or adhesive pads. Others twine their stems around a support or use tendrils to coil around wire or trellis. A third type of climber scrambles over shrubs or trees but will need tying in against a wall or fence
Corm – an enlarged underground stem, performing the same function as a bulb
Espalier – a fruit tree which is trained to grow flat against a wall, using a trellis or framework for support.
Herbaceous perennial – a plant with a life cycle of more than 2 years. Plants may die back to ground level in autumn and then start again into growth in spring or may be non-woody evergreen plants like bergenia and heuchera
Rhizome – a creeping stem growing underground or occasionally along the ground, rooting as it travels and sending up new shoots
Shrub – a woody perennial with several stems, usually branching from near ground level
Tree – a woody perennial with usually a single trunk
Tuber – a thick underground part of a stem or rhizome, performing the same function as a bulb
Wall-trained shrub – free standing shrub which is useful for training flat against a vertical surface
Woody plant – one with a permanent structure of stems and branches e.g. trees, shrubs and some climbers
Pin for later
For more gardening ideas, click here to follow the Weatherstaff PlantingPlanner on Pinterest.