The Thrillers are the architectural plants, usually the tallest plants in the display. They provide the structure for your planting combination.
Next come the Fillers, the second layer of planting in the container. They add mass to the planting, as well as providing a contrast in shape and texture. Think mounds, if your Thriller is a spire.
Here are my 6 choices for plants with superb filler qualities.
Geranium
The colourful summer bedding pelargoniums of course make fantastic summer container plants. If you want a longer lasting display, though, choose from the hardy perennial geraniums, known as cranesbills. They are superb for providing long season flowering year on year. Some of the more vigorous ones, like Geranium Ann Folkard, make fantastic ground cover in your borders, but choose a more compact one for your containers.
Geranium (Cinereum Group) 'Ballerina' grows to 15cm high. Pale pink flowers, delicately veined purple and with a bewitching dark eye, are carried in spring and summer.
Geranium 'Rozanne' is taller and more vigorous. Violet blue flowers, with white centres, appear in abundance from July to October. Trim back hard to maintain shape and encourage more blooms.
Geranium 'Kashmir White' is 45cm high, with white flowers, veined pink. It spreads by rhizomes, so can be easily split to provide free plants elsewhere in your garden.
Heuchera
Heucheras are the most perfectly behaved container plants. Foliage can be green or chocolate, red or golden, often marbled or frosted. They produce delicate sprays of tiny flowers in late spring or early summer, but their colourful evergreen (or semi-evergreen) foliage is the main attraction. You can find heucheras which are suitable for any spot in the garden, sun or shade.
'Green Spice' has stunning foliage. Its bright green leaves are frosted with silver and its veins highlighted in red. A good plant for shady borders and pots.
'Marmalade' has ochre leaves, with pink undersides. It can tolerate full sun to part shade.
Shade-loving 'Beauty Colour' has silvered foliage with fresh green margins and dark purple veining.
Take a look at their close cousins, heucherellas and tiarellas, too!
Salvia
Salvia x sylvestris is a clump-forming perennial, with flower spikes in early and mid-summer. The perennials die back neatly at the end of the season and push up again the following spring.
'Viola Klose' has spikes of indigo, two-lipped flowers, with contrasting dark purple bracts. It grows to 60cm tall.
'Mainacht' (or 'May Night') has dark purple-blue flowers, with red-purple bracts, growing to 75cm.
Hylotelephium
Hylotelephium (also known as stonecrop or sedum) is a low growing perennial with succulent leaves and flat flowerheads of starry flowers in summer and autumn. Cut back in late May, the 'Chelsea Chop', to keep the plant from flopping and produce later flowers. You can leave the flowerheads to provide interest over the winter months.
'Purple Emperor' has dark plum leaves with deep pink flowers. It grows to 50 cm tall.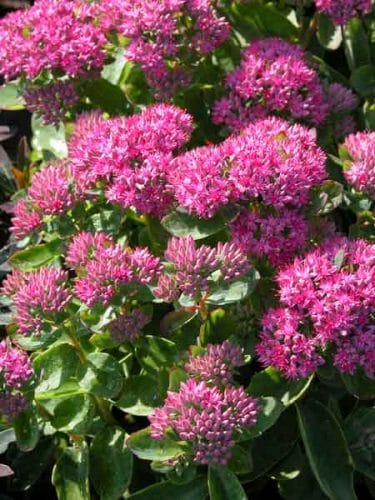 'Munstead Red' is 60cm tall, with purple-pink flowers. The dark green leaves are tinged with purple.
Thyme
Herbs make good fillers, as well as providing flavour in the kitchen. Thymus x citriodorus is a hardy, evergreen perennial with summer flowers and lemon-scented leaves.
'Golden Lemon' has variegated yellow and green leaves, with lavender-pink flowers. 'Bertram Anderson' forms mounds of tiny gold-green leaves, with clusters of lavender-pink flowers.
Chives
Grow chives (Allium schoenoprasum) for edible, dark green leaves and attractive pom-poms of pale purple flowers. The flowers are edible too and can be sprinkled over salads.
Pin for later
For more gardening ideas, click here to follow the Weatherstaff PlantingPlanner on Pinterest.