No one wants their garden borders to be a muddy, lifeless patch in winter! Though a touch of frost can transform the dullest of gardens into a magical wintry landscape, most gardeners aim to create an outdoor space, with delights which are less transitory.
Choosing plants for winter interest usually means selecting attractive skeleton forms or handsome evergreen foliage, picking out plants with winter flowers or looking for colourful stems and interesting bark. All of these can make the winter garden a pleasure to view from your kitchen window.
When you get up close and personal though, it will be those heady winter scents which engage the senses and lift the spirit. With pollinators few and far between, the flowers work extra hard in the winter months to entice pollinating insects and winter flowers can have the most intoxicating fragrance of all garden plants. I've planted some of my favourites in a flower bed near my back door to make the most of their scent.
Daphne odora 'Aureomarginata'
This neat, rounded, evergreen shrub has attractive dark green leaves, which are narrowly margined yellow. Clusters of sweetly-scented, white flowers, flushed purple-pink, are borne from mid-winter to early spring. It isn't reliably hardy though and needs a bit of cosseting in the form of a layer of horticultural fleece on colder nights.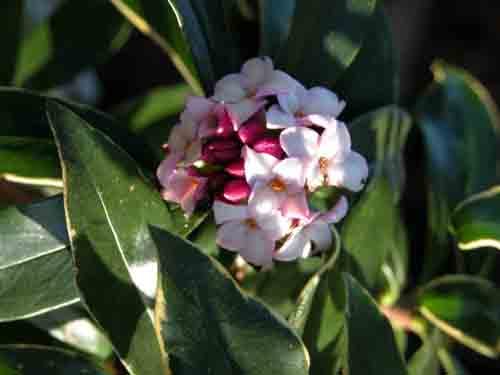 Daphne bholua 'Jacqueline Postill' is an upright daphne, with intensely fragrant winter flowers. It has an Award of Garden Merit (AGM) from the Royal Horticultural Society and is widely available at the moment.
Hamamelis
Crumpled, spidery flowers provide a blaze of colour in mid- and late winter, on the bare twigs of this large, deciduous shrub.
Witch hazels flower in a range of ember colours. Hamamelis × intermedia 'Jelena' has coppery orange flowers, 'Arnold Promise' is yellow and 'Diane' is red.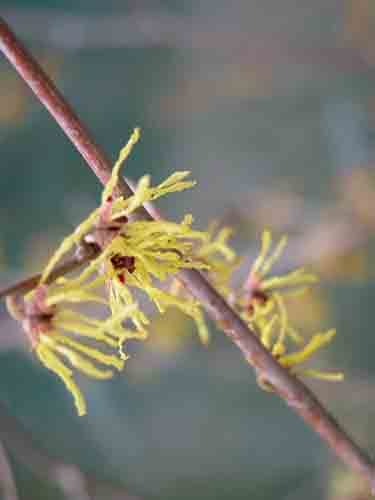 Sarcococca confusa
Sweet box is an evergreen, winter-flowering shrub, growing slowly to form a dense mound of glossy, dark green foliage. Tiny, vanilla-scented, white flowers are produced in winter, followed by glossy, black berries.

Viburnum x bodnantense 'Dawn'
An upright, deciduous shrub with distinctively veined foliage. As the leaves begin to fall, deep pink buds open to sweetly scented, pink-flushed, white flowers, continuing from late autumn to early spring.
Pin for later
For more gardening ideas, click here to follow the Weatherstaff PlantingPlanner on Pinterest.