Need a Low Maintenance Planting Plan? Click here
Come spring, I race out into the garden and pit my weeding fork against the clock. I start off with the flower bed nearest the back door and work my way round to the top of the garden… and then start all over again.
I could make life easier for myself and pave it all over, but I want to look out of my window and see colour, not concrete. Once bitten by the gardening bug, it's hard to resist the temptation to dig up one more flower bed or squeeze in one more plant. But when family and working life means that the time you have for gardening is limited, it's time to look at ways to make managing the garden easier.
First of all, consider what is most important to you in a garden. If you love trimming topiary, or your gardening priority is to grow vegetables, then you need to find other ways to save time, such as planting a low maintenance shrub border or reducing the amount of grass that needs cutting regularly.
I love flower borders, overflowing with colourful perennials and flowering shrubs, but I still want a low-maintenance garden. One that's fairly forgiving, so that if I neglect to prune or fertilise one year, I'll get another chance next year. Where the perennials won't flop in a sulk because I forgot to stake them early enough. Or the shrubs languish, leaf spotted and resentful. And while I'm more than happy with my stock of plants putting on a more impressive show year by year, I can't be doing with vigorously self-seeding thugs romping their way through my borders and smothering everything in sight.
The trick is to find plants, which don't demand much in the way of feeding, staking, deadheading and watering. Ones which will happily reappear year after year, without the need for constant division and replanting. Choose shrubs which look good without regular pruning and ground cover plants to fill the gaps in flowerbeds.
Here are some of my favourite undemanding plants.
Easy-Care Plants
1. Bulbs are fantastically easy to look after. Hardy, reliable bulbs which come up year after year include snowdrops, daffodils, aconites and crocuses. Narcissus 'Thalia' has nodding, slightly reflexed, soft white petals and cups, carried in pairs on each stem in mid-spring.
2. Ground cover plants hug the soil, suppressing weeds. Ajuga reptans is a creeping, evergreen perennial, spreading by means of rhizomes to form a mat of attractive foliage. Short spikes of deep blue flowers appear in late spring and early summer.
3. Galium odoratum or  Sweet Woodruff is another superb ground cover plant, with the prettiest of fragrant, star-shaped white flowers from late spring to mid-summer. Whorls of bright green leaves make a low neat mat of foliage.
4. The Mexican Orange Blossom – Choisya ternata – is a perfect choice for a low maintenance shrub – well-behaved and needing no pruning. Its glossy aromatic , leaves are evergreen, providing all year interest. White, starry, fragrant flowers, with delicate golden-yellow anthers, are borne in late spring and then, intermittently, through late summer and autumn.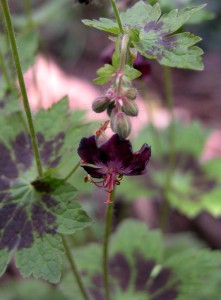 5. Hardy geraniums are versatile, reliable and attractive garden plants. Geranium phaeum 'Samobor' has distinctively marked leaves in dark chocolate. In late spring and early summer, clusters of dark maroon, reflexed flowers, with starry white centres, appear. Though tall, it usually grows well without the need for staking, particularly in informal areas of the garden.
6. Trees are the ultimate low maintenance plant, once established in the garden. Amelanchier canadensis is a gorgeous small tree (or large shrub), with several seasons of interest in the garden. The oval leaves open reddish-brown, turning mid-green in summer and finally taking on orange and red autumn hues. In mid to late spring, a profusion of star-shaped white flowers appear. These are followed by small green berries, which turn red and finally blue-black in early summer.
Need a Low Maintenance Planting Plan?
The Weatherstaff PlantingPlanner makes it easy for you to create a low maintenance garden. The interactive gardening software designs all-season planting plans for your garden, tailored to your garden's soil and light conditions.
Choose your favourite planting style (for example: cottage, contemporary, Mediterranean) and pick your colour scheme. Select the Low Maintenance option as an Additional Planting Requirement. The PlantingPlanner will draw up a planting plan, crammed with easy care plants, to help you create beautiful borders with minimum effort.
The Weatherstaff PlantingPlanner for Easy-care Gardening
When you select the Low Maintenance option, the PlantingPlanner will choose plants which do not need routine pruning, regular staking, spraying against disease and frequent dividing. Some plants which vigorously self-seed are also excluded.
Matches your Planting Conditions
You can waste a lot of time trying to keep plants happy that perhaps were never meant for your garden in the first place – planting a thirsty shrub in a dry eastern garden, for example, or an acid-loving plant on alkaline soil. The PlantingPlanner will always aim to satisfy your soil's requirements, removing the need for you to continually try to change your conditions to suit the plants.
Provides a Graded Maintenance Schedule
For the time-pressed gardener, the maintenance schedule provided by the PlantingPlanner will provide a useful guide to prioritising garden jobs. Maintenance advice is provided for each selected plant and differentiates between significant, beneficial and low priority tasks.
Pin for later
For more gardening ideas, click here to follow the Weatherstaff PlantingPlanner on Pinterest.