Need a Low Maintenance Planting Plan? Click here
Top marks to those easy-going plants which perform spectacularly and never ask for much in return. Here are some more of my favourite low maintenance plants.
1. Tiarella 'Iron Butterfly'
A stunning, clump-forming perennial, with attractive foliage and sprays of delicate flowers. Tiny, starry, white flowers, opening from pink buds, are produced in late spring, sometimes followed by a second flush in summer. The gorgeous, deeply-lobed leaves are mid-green with maroon markings and provide useful ground cover in woodland conditions.
2. Rudbeckia fulgida var. sullivantii 'Goldsturm'
A mass of golden, daisy-like flowerheads are carried on upright stems from late summer to mid-autumn. A superb, late-flowering perennial, the cheerful yellow rays surround prominent black-brown, cone-shaped discs.
3. Miscanthus sinensis 'Morning Light'
Just remember to cut back last year's old stems to ground level in early spring and this elegant ornamental grass takes care of itself for the rest of the year.
Strongly upright in habit, the linear, dark green foliage, narrowly margined white, arches at the top to create a cascading effect. In autumn, the leaves take on russet tones before fading to buff.
4. Eschscholzia californica
Scatter a packet of California poppy seeds in mid-spring and year after year, these brightly coloured annuals, in shades of summer sunshine, will appear, above delicate, ferny, blue-green foliage.
Tips for Low Maintenance Gardens
Lawns
You could replace grassed areas with hard landscaping, but if that's a step too far, then consider the following:
Limit the amount of lawn that will need regular mowing.
Keep the lawn free of objects or trees which will be time-consuming to move or mow around.
Use a lawnmower that mulches – i.e. one that cuts up clippings very finely and blows them back under the standing grass so that you do not have to empty grass boxes.
Lay a mowing strip – a hard edging of paving or brick – between borders and lawns.
Boundaries
How much time can you afford to spend maintaining your boundaries?
Walls require little routine maintenance, fences need treating with preservative on a fairly regular basis, hedges need trimming at least once a year.
Informal hedges are much less time-consuming than formal ones but will tend to spread and take up more space.
Mulching
Mulching will keep the time spent on weeding and watering chores down.
Sheet mulches, such as black polythene, can be laid over well-prepared soil. Plants are planted through the sheet, which is then covered with a more attractive mulch such as gravel.
The sheet mulch will help prevent weeds from establishing around your planting. Unless the sheet is perforated or a permeable fabric is used, plants will need to be watered carefully, directing water at the base of each plant.
If you want to encourage self-sown seedlings, don't use a sheet mulch. A layer of gravel or bark chippings will make it easier to pull up weeds and help conserve moisture, reducing the need for watering.
Irrigation
Consider setting up an irrigation system through your Planting Area.
You can purchase an irrigation system from garden centres or online. Once set up, it will substantially reduce the amount of time you will need to spend on watering chores.
Automatic watering kits usually consist of a network of tubing, which is laid amongst the plants in your border and hidden under a layer of soil or mulch, connected to an outside tap. You can buy starter kits which provide all the components for a particular size border or buy the items individually and make up your own system.
Combining an irrigation system with a timer provides the ultimate low maintenance watering option and it will also look after your garden while you are away.
Raised Beds
Introduce some raised planting areas into your garden.
Raised beds are easier to maintain especially for anyone who wants to restrict the amount of time they spend kneeling or bending over.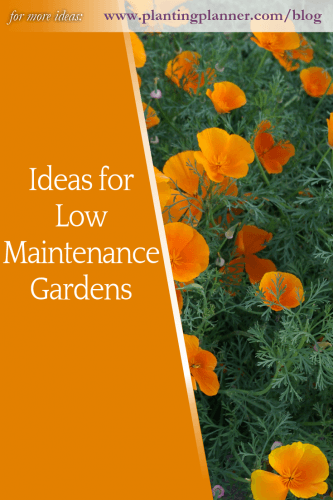 Pin for later
For more gardening ideas, click here to follow the Weatherstaff PlantingPlanner on Pinterest.