There's something deeply satisfying about getting a bargain. Grabbing that floaty cardi you'd been eyeing up, now with a hefty discount tag attached to it. Booking a stay at a hotel that would have been out of your price range if it hadn't had its rates reduced. Fortunately, being a plant-lover and a bargain-hunter is not mutually exclusive!
Garden centres are devilish places. They beguile and bewitch and tempt you with plants at the peak of their flowering season. If you pick up one small pot, it sits there forlornly, bereft of its friends and neighbours, in danger of tipping over, without another pot or two to offer support.
So you pop another plant in – and the combination of colours and contrasting foliage is wonderful. Then, that third flower ties together the first two so beautifully. And the tall, waving grass complements the group…
Buy early in the season
The trouble is that you can end up paying a pretty price for that cart-load of beauties. Buying earlier in the season, when the plants are small, can help save some money. There's often a 'Buy 3 for 2' or some other offer which can help soften the blow at the till.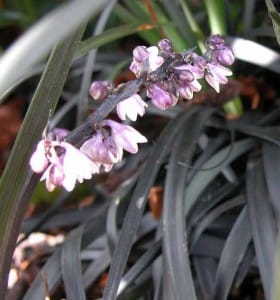 The Clumpers
Another good way to cut costs is to get hold of plants which quickly bulk up and can be divided to make new plants. For one of my garden borders, I was keen to plant up Ophiopogon planiscapus 'Nigrescens' en masse, to create a weed-suppressing, groundcover. The gorgeously, sophisticated black mondo grass has purple-black, strappy foliage and tiny, bell-shaped flowers of the palest mauve.
I baulked at the price of buying them in bulk, though the manager at my local garden centre was very helpful and offered me a good discount when he realised what I planned to do.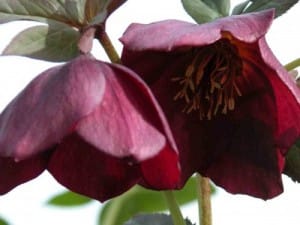 The answer in the end was patience. The plant spreads by rhizomes and also clumps up nicely, so that within a year or two, the original small grasses had spread, or been divided and replanted, until they covered the flower bed wonderfully.
They carpet the ground beneath two camellias and provide a lovely backdrop to hellebores and anemones, as they push their way through from late winter to spring.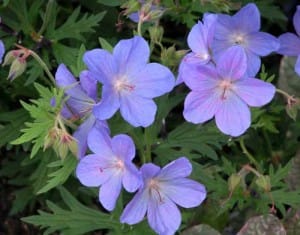 Clumpers, which can be divided with a sharp crunch of a garden spade, are useful not just for providing new plants from old in your own garden, but are great for distributing to friends and fellow plant-lovers. In fact, a social coffee and chat can often end with a stroll around the garden, trowel in hand, and an armful of new plants to find homes for.
Good 'clumpers' include geranium and astrantia.
The Spreaders
Plants which spread, rooting as they go, like the trailing campanula (Campanula poscharskyana) and lily of the valley, can cover a large wild area quickly. Sometimes, they can spread too vigorously, so it pays to be cautious and check which plants can become invasive in your area.
The Self-seeders
And finally, there are the self-seeders. The most effortless and cost-efficient way of all to fill your borders with new plants.
Aquilegia vulgaris is an endearingly old-fashioned, cottage garden plant, also charmingly called Granny's Bonnet. The nodding flowers of the wild species are usually blue, but there are many variants available. The plant will hybridise freely, so that the new generation of flowers may vary from the ones you planted the previous year. I like the purple, pink and white variants and have been charmed each spring to see old favourites return along with their equally delightful offspring.
Another favourite of mine is the candelabra primula, which carries whorls of red-purple flowers on tall stems in late spring and early summer. Primula pulverulenta will also hybridize liberally with surrounding primulas, so if you have other varieties, you may end up with a delicious woodland drift of pinks and reds.
Pin for later
For more gardening ideas, click here to follow the Weatherstaff PlantingPlanner on Pinterest.