Winter is not all bare branches and empty garden borders! Camera in hand, I set myself the challenge of tracking down plants which brighten up the dead days of winter.
Even when frosted with ice or with a sprinkling of snow, holly can be relied on to provide deep greens and rich red berries. Ivy and mistletoe complete the trio of festive evergreens.
In the medieval, walled town of Pérouges, in eastern France, I spotted a collection of window boxes which combined Christmas baubles and pine cones with winter pansies and cyclamen. When it's time to take down the Christmas decorations, the pansies and cyclamen continue to brighten up the window sills.
Decorating the house walls above them, traditional bunches of sweetcorn, together with gold and red baubles, were tied onto the winter vines, adding a splash of vibrant colour amongst the fading vines.
By early January, the spidery flowers of Hamamelis x intermedia are starting to appear, while the delicate pink blossoms of Prunus x subhirtella 'Autumnalis Rosea' – the winter flowering cherry – appear in mild spells throughout the winter months.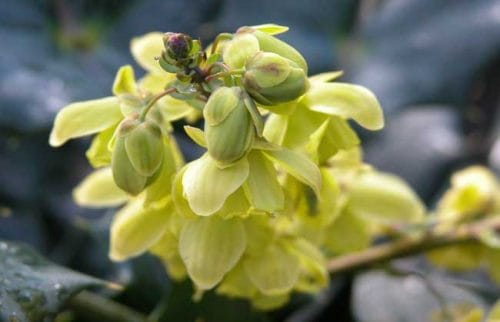 Mahonia is a useful winter plant with evergreen leaves and fragrant lemon-yellow flowers. Winter jasmine – Jasminum nudiflorum – is a vigorous climber, with yellow flowers providing a cheery sight on grey days.
Viburnum x bodnantense 'Dawn' carries pretty, pink flowers for months through autumn and winter, while the peony-like ruffles of Camellia provide handsome clusters of colour in late winter and early spring.
And with snowdrops starting to open and green shoots of early-flowering daffodils poking up from the ground,it will be spring before we know it!
Pin for later
For more gardening ideas, click here to follow the Weatherstaff PlantingPlanner on Pinterest.