I've visited lots of gardens, but The Water Garden at Emquartier – slap bang in the middle of a luxury shopping mall and five storeys above the city streets – was a new experience for me.
EmQuartier is Bangkok's brand new shopping mall, next to Phrom Phong BTS station and just across Sukhumvit Road from the well-established (and recently renovated) Emporium mall. Alongside the modern glass and chrome architecture, there's been a real effort to create breathing green spaces on every level.
Outdoor walkways connect the different zones and from these vantage points, as well as superb views of the city, you can spot the foliage of the Water Garden high up in the Helix Quartier and an impressive waterfall, complete with enormous peacocks, overlooking the atrium.
Spiralling down over 100 metres from the roof, the Rainforest Chandelier – designed by Patrick Blanc of Vertical Gardens fame – creates a striking first impression of The Water Garden. Echoing the chandelier, the floor then spirals up and up, enabling visitors to circle the gardens and then continue upwards, to select from one of the 50 or so dining outlets between the sixth and ninth floors.
Below the living chandelier, a curved wall of stone – displaying a variety of tropical plants grown hydroponically and over which a cascade of water continually flows – follows a path down to the lotus pond.
A glass doorway leads to the outdoor courtyard with its interconnecting pools and swaying bamboos. Strategically placed viewing platforms give spectacular panoramic views of the city and the nearby green oasis of Queen Benjasiri Park.
Lobster pot-style gazebos provide quiet sitting areas for catching up with friends and admiring the gardens and views.
A wooden walkway over a pond winds between Bodhi and Banyan trees, a spirit house nestling beneath their branches.
Dusk was falling as we arrived, transforming the gardens into a magical world. Tiny starry lights hung suspended from the ceiling, flames flared from metal torch holders and hidden lights illuminated the trunks and foliage.
Flames flickered from a glass cube floating on the water.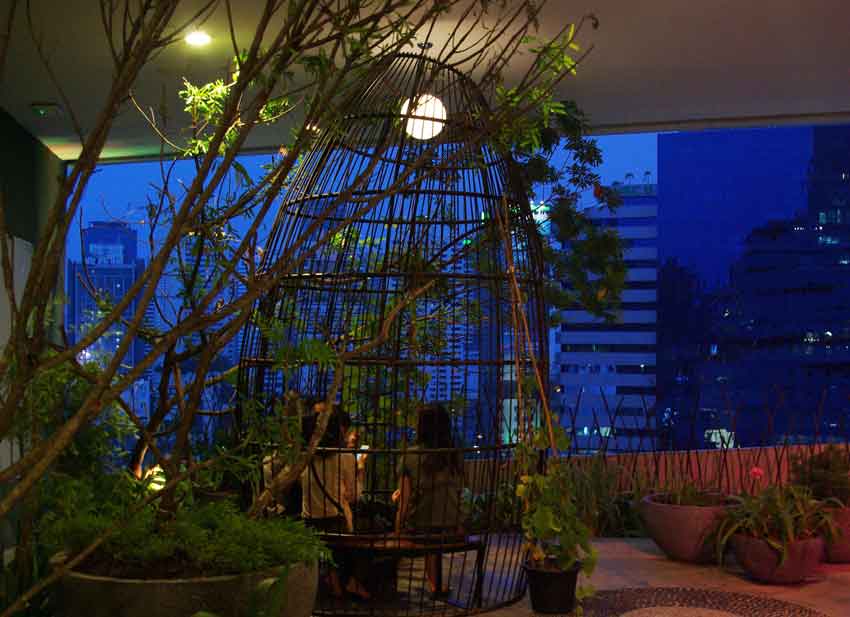 It is a beautiful spot to watch night descend on the city.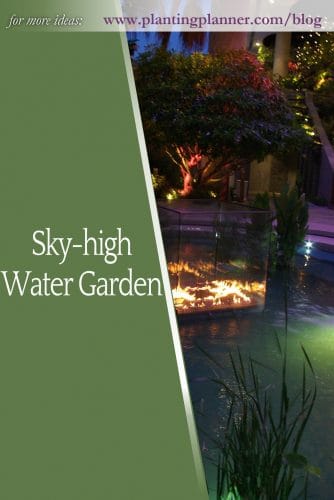 Pin for later
For more gardening ideas, click here to follow the Weatherstaff PlantingPlanner on Pinterest.