If you love charm over elegance, profusion over minimalism, natural haphazardness over control and order, the chances are that you love the cottage garden style.
The Daisies
Traditional cottage garden favourites are daisy-style flowers, such as asters, fleabane daisies, coreopsis and echinacea.
Coreopsis verticillata 'Grandiflora' has cheery yellow, starry flowerheads, carried in abundance on wiry stems in summer.
Asters come in shades of white, pink, purple and blue. I love Aster pyrenaeus 'Lutetia', for its starry flowerheads in palest lilac, with yellow centres. It has a long flowering season from mid-summer to mid-autumn and is completely resistant to powdery mildew – a disease which plagues many asters.
Erigeron karvinskianus (Mexican Fleabane) is a delightful long-flowering perennial, spreading by rhizomes to form a carpet of daisy-like flowers. Little white flowers with yellow centres appear throughout the summer and into autumn, becoming deep pink as they age.
A beautiful, late summer-flowering perennial, Echinacea purpurea has slightly reflexed, light purple rays, carried on upright stems from mid-summer to early autumn. The flowers have prominent coppery-brown, cone-shaped discs.
Down at Ground Level
Cottage gardens are recognised by the abundance of their planting. Filling the borders to overflowing has the added advantage of leaving no bare soil for weeds to germinate.
That's where the little ground covering plants come in. They do a brilliant job of plugging the gaps in borders and knitting everything together. Allowing them to spill gently over border edges, wind around paths or cascade over low walls creates a natural, informal effect.
Campanula poscharskyana, the trailing bellflower, is a fantastic perennial for softening the edges of paths and borders. Its purple-blue, star-shaped flowers, keep appearing from spring right through to early autumn. Read more about it here
Ajuga (Bugle) is another useful, creeping perennial, spreading by means of rhizomes to form a mat of attractive, evergreen foliage. Short spikes of deep blue flowers appear in late spring and early summer. Ajuga reptans 'Burgundy Glow' has variegated leaves – silvery-green, with shades of pink, red and cream. The leaves of 'Variegata' are grey-green, with cream borders. For white flowers, try Ajuga reptans f. albiflora 'Alba'.
The woodland forget-me-not (Myosotis sylvatica) has clusters of blue flowers, with tiny yellow eyes. The flowers are carried above tufts of grey-green leaves in spring and early summer, and mingle happily with spring flowering bulbs. Though short-lived, the plants will self-seed freely, to spread through borders and cover patches of bare soil.
You will have to crouch down low to catch the scent of the Viola odorata. Pretty, very fragrant violet-blue or white flowers are produced in late winter and early spring. It spreads gently to form a clump of glossy, heart-shaped, bright green foliage. Perfect ground cover for a shady spot.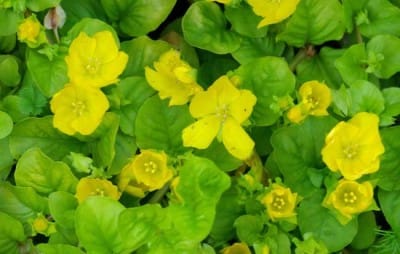 Lysimachia nummularia 'Aurea', known as Golden Creeping Jenny, provides useful groundcover, especially between paving stones or on gravel. An evergreen carpeting perennial, it forms a low mat of attractive golden-yellow foliage, with bright yellow, cup-shaped flowers in summer.
Need a Cottage Garden Planting Plan?
The Weatherstaff PlantingPlanner
makes it easy for you to create a cottage garden style border.
The interactive gardening software designs all-season planting plans, tailored to your garden's soil and light conditions.
Select 'Cottage Garden' for your choice of style and pick your preferred colour scheme. Enter your garden's climate, soil and light conditions. The PlantingPlanner will draw up a planting plan with flowers, herbs and shrubs, which are perfect for creating your very own cottage garden.
You can tweak and modify your generated plan, by excluding any plants you don't like and substituting them with your favourites. The PlantingPlanner will tell you if your choices are suitable for your location.
If you want to grow vegetables as well as ornamental plants, you could use a collection of pots and containers to cram into gaps around your garden. Try here for inspiration.
Pin for later
For more gardening ideas, click here to follow the Weatherstaff PlantingPlanner on Pinterest.