Sultry, seductive, with a slight hint of chocolate – my first climbing plant was Akebia quinata. I fell in love with its photograph and set off to track one down for my very own!We had just invested in a beautiful pergola. It was delivered – a collection of posts and panels and a hefty stash of 3in nails – and assembled by a local builder. It was all looking rather good. Until the moment when we realised that we still had a rather large collection of nails and, on closer inspection, discovered that the builder had gone home before securing the rafters. And, right on cue, came the first gust of wind and rumble of thunder. The pergola's first night in the garden was accompanied by a howling gale and a pair of novice builders, raincoats flapping, torchlight wavering, wet hands dropping nails into the sodden ground, as we fought to batten down the rafters before the thing took off into the darkness.
But the next morning, there it was, all fresh and new, standing proudly in the garden, which was then almost entirely lawn, with flower borders and snaking woodland paths still just a dream nestling in the pages of a magazine, where they came attached to Cotswold stone manor houses or country vicarages. So, first step towards our dream garden – draping the pristine new wood with swathes of blossoming ramblers and scramblers.
Enter the chocolate vine, Akebia quinata. Not only a good-looker; it turned out to be a keeper. Bright green leaves in spring, with exquisite wine-red flowers. Not particularly large and showy, but just big enough to give a thrill of discovery when the first flowers of the season appear amongst the foliage. It's hardy and vigorous, quickly twining and clambering its way over the wooden posts. It can start to scamper off on adventures of its own, when my back is turned – threading its way over neighbouring shrubs and clambering up in to a nearby tree, but responds very well to being cut back to keep it in check.
Other climbers have inveigled their way into my garden centre trolley and my heart since then, enticing me with their scents and colours. Clematis, of course – from the large, lavender-blue of Mrs Cholmondeley,
to the enchantingly ruffled Clematis viticella 'Purpurea Plena Elegans, twining its elegant way around a wrought iron obelisk,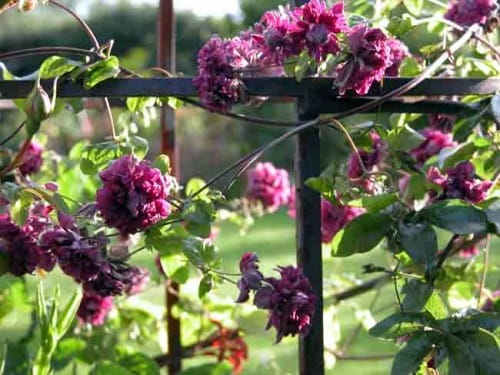 via the bright yellow lanterns of Clematis tangutica 'Aureolin', paired giddily with the appropriately named Romantika, with its bewitchingly dark good looks.
I have a Wisteria for those gorgeous lilac waterfalls of flowers in mid-spring, a Jasmine for its heady scent and Actinidia kolomikta for its amazing colours – the foliage looks like it has been dipped in pots of white and pink paint.
Climbing plants are useful for covering walls or fences or for growing into trees or large shrubs. They can also be used as ground cover in garden borders. Smaller ones can be grown in pots, winding themselves round a spiral plant support and providing background height for more lowly companions.
Though self-clinging climbers attach themselves to surfaces using aerial roots or adhesive pads, most climbing plants need something to cling on to. Some twine their stems around a support or use tendrils to coil around wire or trellis. A third type of climber scrambles over shrubs or trees but will need tying in against a wall or fence.
Need a Planting Plan for your garden, which incorporates climbing plants?
The Weatherstaff PlantingPlanner makes it easy for you to add climbers to your border designs.
1. Design Layout
Draw out your border using the on-screen Drawing Tools.
2. Styles and Conditions
Enter information about the soil and light conditions in your flower beds. Select your preferred planting style and colour scheme.
3. Boundaries
Use the Drawing Tools to mark out the different sections of the border's boundary, indicating where the border is backed by a fence, wall or hedge. Select the option to clothe walls or fences with climbers.
4. The Plan
Your tailor-made planting plan is generated. Each plan comes with colour photographs, descriptions and full maintenance advice for individual plants.
For climbers and wall shrubs, check the plant descriptions for information about climbing habits and any support structures needed.
Tips for planting climbers
Plant as for container-grown plants, taking into consideration the following specific requirements for climbers:
If your climber needs a support structure such as wire or trellis, it is useful to fix this in place before you plant.
Make the planting hole about 45cm (18in) away from the wall or fence to avoid the rain-shadow effect.
When placing in its hole, angle the plant towards the boundary.
Fan out the stems and tie them to the wire or trellis. You may need to use a bamboo cane to help the stems reach the bottom of their support structure. Help the plant by tying in the stems initially, though self-clinging climbers will manage on their own once they have settled in.
Special Cases
Roses: Many roses are grafted. Plant so that the graft union – the bulge in the stem – is 6cm (2½ in) below the level of the soil.
Clematis: Plant clematis deeper than other plants. If the plant is attacked by clematis wilt, new shoots may grow back from the base. These climbers like their roots to be in shade. Place low plants in front to provide shade at the base or add a mulch of pebbles to help keep the roots cool.
Pin for later
For more gardening ideas, click here to follow the Weatherstaff PlantingPlanner on Pinterest.