If you love charm over elegance, profusion over minimalism, natural haphazardness over control and order, the chances are that you love the cottage garden style.
Annuals and Self-Seeders
Cottage gardens are all about abundance of planting and random drifts of colour. Ground covering plants weave through the planting, spilling over border edges and stitching everything together. In the same way, scattering the seeds of annuals amongst the permanent planting will plug any gaps and contribute to the random charm of the design.
Annuals are plants which germinate, flower and set seed all in one year. They die after flowering, but many will helpfully self-seed leaving a new generation of flowers to appear the following spring.
Annuals are perfect for a high-impact quick burst of colour. They are fast-growers and, because packets of seeds are inexpensive, can cover a big area at a low cost. Ones that will grow directly where they are scattered are the easiest option.
Hardy annuals can be sown in the autumn to get off to a flying start the following spring. Half-hardy ones can't take the cold. They can be sown indoors in spring, but you will need to wait until the frosts are past before planting them out in the garden. Or you can sow them directly in the garden when there is no more risk of frost, but they will take a little longer before they start to flower.
Eschscholzia californica is the state flower of California, flowering prolifically in shades of gold, orange and red, with finely dissected blue-green foliage.
They seem to have far too many letters in their name, but are one of the easiest annuals to grow. (They are grown as annuals in temperate climates, but considered a perennial in hot areas.) Tolerant of heat, drought and poor soil, these sunny little flowers bloom all summer long and are a magnet for bees and butterflies. Removing the flowers as they go over, encourages the plant to continue flowering. Leave the last flowerheads on the plant at the end of the flowering season, to allow it to self-seed.
The flowers in my garden are E. californica subsp. Mexicana, the Mexican Gold Poppy. They have masses of silky flowers, which are often two-tone, with the golden centre slightly darker than the outer edge of the petal.
Limnanthes douglasii, poached egg plant, has pretty yellow and white flowers. It self-seeds freely and is also attractive to pollinators, so is a good choice for cottage gardens. It will naturalise around the garden, providing useful ground cover. It has been granted the Award of Garden Merit (AGM) by The Royal Horticultural Society.
Nigella damascena is the prettiest of annuals. The flowers float in a delicate mist of ferny foliage, giving it the common name of Love-in-a-Mist. Though most usual in its blue variety, seed mixes often include pink and white flowers. Nigella will self-seed readily and is attractive to wildlife.
The annual cornflower, Centaurea cyanus, carries ruffled flowers in shades of blue red, pink, and white. Deadhead flowers as they go over to prolong flowering, leaving those at the end of the season to develop seedheads to provide food for birds. Check out Centaurea cyanus 'Blue Boy', which is a large-flowered cornflower in traditional bright blue. Taller varieties may need staking in exposed areas.
Look out for packets of bee flower mix, which are perfect for a cottage garden. These are seeds of nectar and pollen rich wildflowers, which not only fill in any gaps in your borders but also encourage native bees and other pollinators.
Self-sufficiency
Well, maybe not total self-sufficiency unless you have space for chickens and a pig or two – but you can make a stab at it by mingling fruit and vegetables in with your ornamental flowers. Grow runner beans up willow obelisks, strawberries in pots, tomatoes in growbags. Potatoes, carrots, courgettes, colourful peppers and lettuces can all be grown in containers, so can be squeezed in to any free spaces in the garden.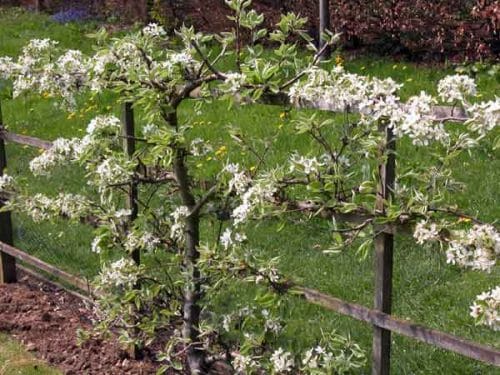 Fruit trees can be grown on dwarf rootstocks, which will stunt their growth, or prune trees to form single cordons, fans, and espaliers. I have a step-over apple in my garden and a small number of columnar fruit trees, which grow to only 1.8-2.4m (6-8ft) tall.
Don't forget a ready-to-grab clutch of herbs near the kitchen door. Grow a collection of your favourites in pots – rosemary, mint, chives, thyme, sweet basil and coriander – for adding flavour to your winter casseroles or summer salads.
Sweet basil complement tomatoes beautifully. Scatter torn basil leaves over the top of a tomato and mozzarella salad, with a splash of balsamic vinegar and oil. Or rub cut garlic over a slice of grilled baguette, add a dash of olive oil, freshly chopped tomatoes and basil for a fantastic tomato bruschetta lunch.
Rosemary is the most useful herb I grow, as it is evergreen and can be harvested all year round. One of our favourite family meal is lamb chump chops with tomatoes, courgettes and a handful of aromatic rosemary.
I also love fennel – Foeniculum vulgare – an aniseed-scented herb with umbels of yellow flowers. This tall Mediterranean plant has finely dissected leaves which can be sprinkled over pork, fish or used in salads. It also looks pretty fantastic!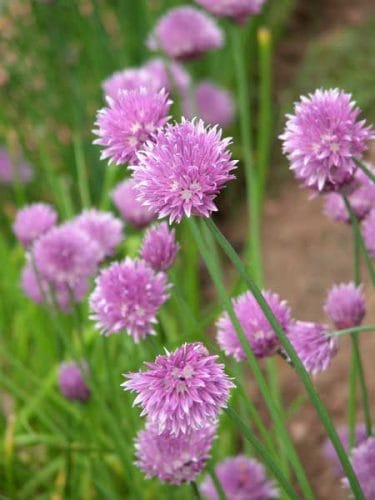 Chives (allium schoenoprasum) are easy to grow and make a great addition to salads, soups and omelettes. They have a slight onion flavour, so are perfect for sprinkling over potato salad. The honey-scented flowers are also edible and can be added to salads.
And the most important thing to remember when planning what herbs, fruit and vegetables to fit into your cottage garden? Only grow what you most like to eat!
Need a Cottage Garden Planting Plan?
The Weatherstaff PlantingPlanner makes it easy for you to create a cottage garden style border.
The interactive gardening software designs all-season planting plans, tailored to your garden's soil and light conditions.
Select 'Cottage Garden' for your choice of style and pick your preferred colour scheme. Enter your garden's climate, soil and light conditions. The PlantingPlanner will draw up a planting plan with flowers, herbs and shrubs, which are perfect for creating your very own cottage garden.
You can tweak and modify your generated plan, by excluding any plants you don't like and substituting them with your favourites. The PlantingPlanner will tell you if your choices are suitable for your location.
If you want to grow vegetables as well as ornamental plants, you could use a collection of pots and containers to cram into gaps around your garden. Try here for inspiration.
Pin for later
For more gardening ideas, click here to follow the Weatherstaff PlantingPlanner on Pinterest.