Inspiration
Sometimes we don't know what we want until we see it in someone else's garden!
In all these internet searches every month, what gardeners are looking for is a little inspiration. Pinterest is great for sharing ideas. Try scrolling through some images to see which ones you instinctively fall in love with and start collecting your favourite pictures on your own board.
For thousands of gardening ideas, click here to follow the Weatherstaff PlantingPlanner on Pinterest.
Even with a glorious mood board of beautiful images to inspire, though, it's not always easy to transfer these ideas to our own garden borders. Here are some ideas for creating the garden of your dreams.
Style
The first step is to decide on the style of garden you prefer. Are you a minimalist, in search of contemporary planting ideas and modern materials? Or do you have a passion for cottage gardens – billowing roses and white picket fences? Perhaps you want to create a Mediterranean-style garden border or a shady woodland retreat?
Read more here on different garden styles to help you decide.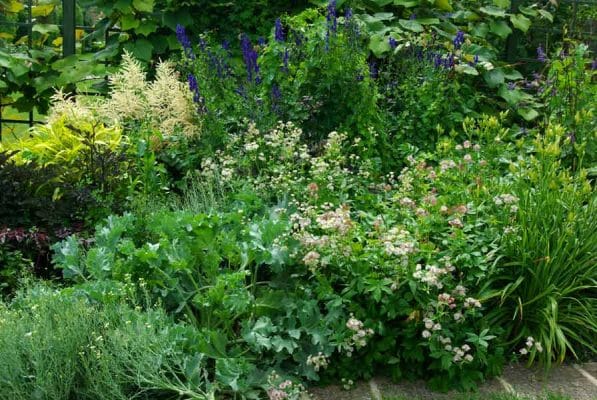 Now look back at your mood board of favourite images – which style of garden features most prominently in your chosen images? Is that the type of garden you would like to recreate in your own backyard?
Formal or Informal
The next step is to consider the overall layout of your garden. Will you need to stick closely to the structure you have already or are you prepared to invest in some major restructuring, involving moving or laying new paths or seating areas, perhaps? Read more here about disguising awkwardly-shaped plots.
There are some changes you can make, without huge cost implications, such as widening a flower bed or tweaking the shape of a lawn. We were able to change the look of our triangular garden by rounding the lawn and losing the sharp angle amongst a sea of tall planting.
Before you head out with a garden spade, think first about whether you want to create a garden which is formal or informal in design. Do you prefer a naturalistic, informal look or do you hanker after the elegance of formal lines and symmetry? Have a look at the following design tips for creating a formal or informal style of garden border.
Ideas for formal gardens and borders
The amazing, formal gardens at Villandry in the Loire valley are a great source of inspiration. You may not be able to create something on quite such a grand scale, but the elements of symmetry, geometric shapes and well-manicured topiary are the basis for a formal garden border.
Tips for creating a formal garden
Choose straight lines and geometric shapes, such as circles, squares and triangles, to define planting areas.
Aim for a symmetrical design, repeating planting and colours in matching borders or arranging features such as pots, fountains or obelisks in a symmetrical pattern.
Formal gardens need to be carefully maintained, hedges and topiary well-clipped and borders neatly edged.
Containers of topiary in neat geometrical shapes sit well in formal designs.
Ideas for informal gardens and borders
Tips for creating an informal garden
Use gentle curves, rather than straight lines, to define border edges.
Planting can be allowed to spill over the boundaries of flower beds to break up hard edges.
Use natural materials, such as wood and weathered stone, if you can.
Collections of pots and containers in a mix of heights and sizes create a natural look.
The Planting
So, you've decided on the style and layout of your garden. Take another look at all those beautiful images you've collected. Chances are the most important feature in those pictures is the choice of plants. The crucial step to making your dream garden a reality is getting the planting right.
Take time to study the plants used in the flower borders and how they are combined to great effect. Try placing plants in groups or drifts – an odd number usually works well. Contrast tall plants with low mounds. Choose plants for all year-round structure as well as summer colour.
Getting the planting right can be tricky. Many home owners have spent a small fortune in garden centres only to find that the plants they have chosen aren't suitable for the growing conditions in their own gardens.
It's a good idea to check on the acidity of your soil and take time to work out whether your borders are well-drained or water-retentive, sunny or shaded, as these factors will affect which plants will thrive in your borders. Read here for more on my endeavours to create a successful planting plan.
Pin for later
For more gardening ideas, click here to follow the Weatherstaff PlantingPlanner on Pinterest.
Need help choosing the right plants?
The Weatherstaff PlantingPlanner makes it easy for you to create beautiful garden borders.
The interactive gardening software designs all-season planting plans, tailored to your garden's soil and light conditions.
Draw your garden layout using the onscreen drawing tools.
Select your choice of style and preferred colour scheme.
Enter your garden's climate, soil and light conditions.
That's it! The PlantingPlanner will generate your bespoke planting plan, complete with colour photographs, descriptions and full maintenance advice for individual plants.
You can tweak and modify your generated plan, by excluding any plants you don't like and substituting them with your favourites. The PlantingPlanner will tell you if your choices are suitable for your location. Find out more here.
Happy gardening!